In stock in Atlanta, please call us or come to the store to discuss.
Hair Length:
8″-30″ is a regular size, the stock is sufficient, and the delivery is fast.
32″-40″ is an unconventional size and needs to be customized.
Hair Texture:
There are many subdivisions of hair texture, mainly six textures: Straight, Wave, Curly, Coily, Kinky Straight, and Yaki.
Different manufacturers may have different interpretations of the subdivided hair type, and the same hair can be composed of different hair textures, such as straight at the beginning and curly at the end. So it is best to provide us with photos.
| Hair Textures | Andre Walker Hair Typing System | Some Common Names |
| --- | --- | --- |
| Straight | 1a-1c | natural straight, bone straight |
| Wavy | 2a-2c | natural wave, body wave, loose wavy, deep wave, water wave |
| Curly | 3a-3c | natural curly, jerry curl, deep curly, big curly, loose curl |
| Coily | 4a-4c | kinky curly, kinky afro, kinky coily, coily curly |
| Kinky Straight | ... | kinky curly straight |
| Yaki | ... | Italian yaki, light yaki, yaki kinky straight |
Hair Volume:
The Indian raw hair bundles in stock are all single-drawn, other volumes can be customized.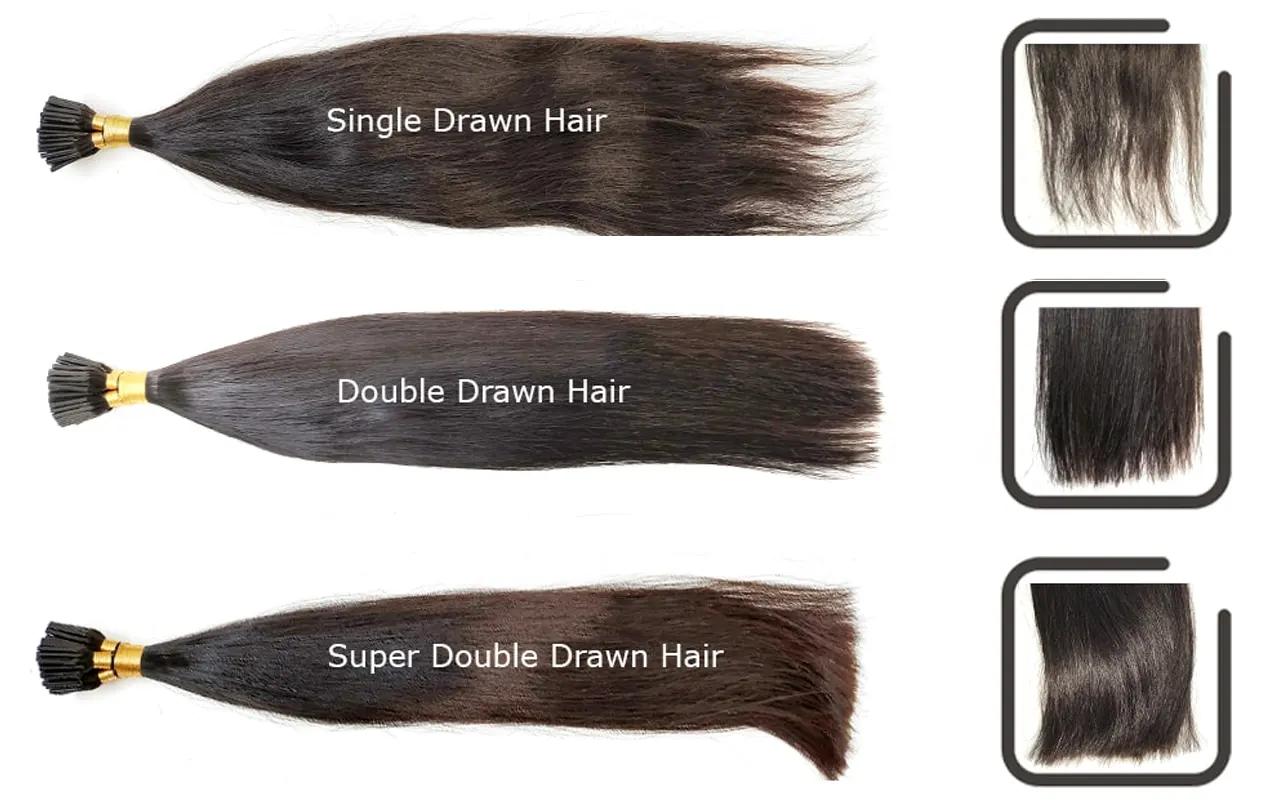 | Comparison | Single drawn | double drawn | Super double drawn |
| --- | --- | --- | --- |
| Hair Volume | About 25% full length sized hair + 75% short hair | About 50% full length sized hair + 50% short hair | About 80% full length sized hair + 20% short hair |
| Cost | Cheap | Expensive | Very expensive |
Hair Color:
Undyed hair color is called natural color, usually black with a bit of brown, sometimes with a few strands of blonde.
Colored hair is divided into ordinary and bleaching dyeing according to different processing techniques. For mixed colors, it is better to provide photos or samples.
You can provide us with the color sample, and we will process it according to the sample; you can also ask us to provide the hair color palette for you to choose from.
Custom Packaging:
One bundle/pack, weight 100±5g.
We can customize the package, including package quantity, outer package, installation tools, etc. You can discuss the details with us.
Others:
If you have any questions, please feel free to contact us, or come to Atlanta for a field trip.