Thank you for being interested in our wholesale 5×5 lace closure wigs. Below, you will find detailed information regarding the specifications of our products. If any points are not covered, or you have additional questions, please do not hesitate to contact us for further discussion.
Glueless Technology
We use various unique technologies to create a more fitting and glueless wig.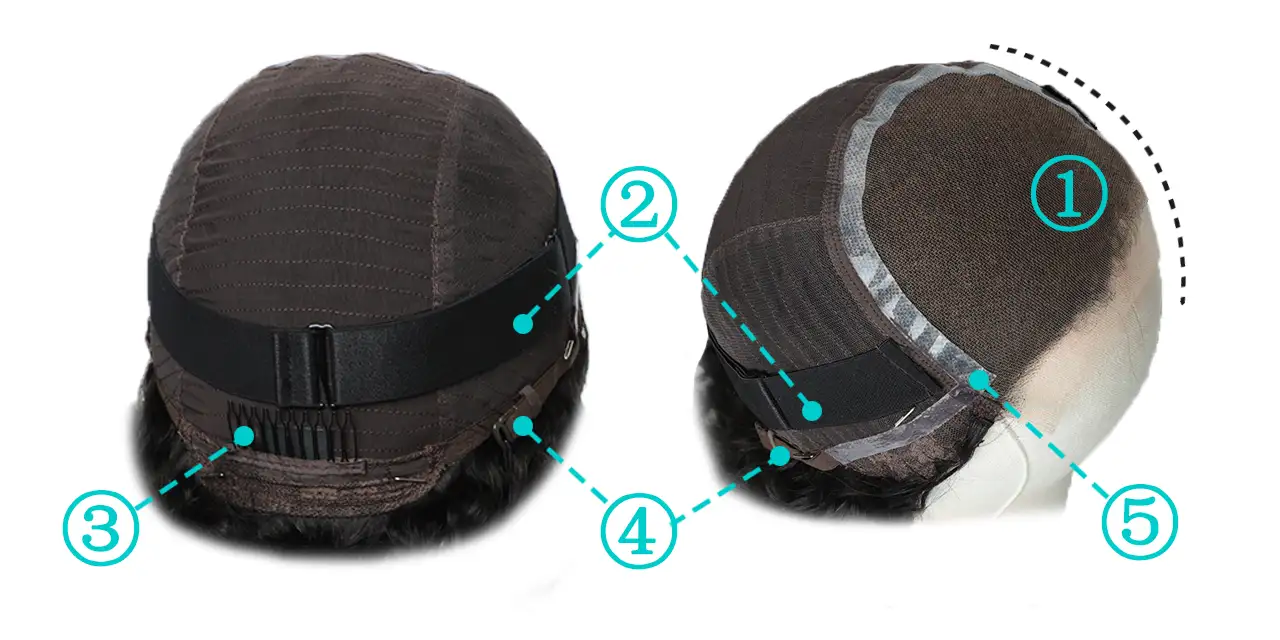 Easy to Wear: The lace closure is shaped using steam and pressure, so it naturally fits your scalp.
More Comfort: The wig has a broad elastic band, providing extra flexibility and comfort. It also has a great grip to help you adjust the hat size.
Stays in Place: A large comb at the back keeps the wig securely attached to your hair.
Custom Fit: The wig's tail end has a small adjustable strap that you can use to fine-tune the cap size, helping to keep the wig from lifting.
Non-Slip & Better Fit: There's PU tape on the lace closure that improves the fit and keeps the wig from slipping.
*A trusted authority confirms that PU glue is 100% safe and non-toxic.
Freely Move the Lace Closure Position
The traditional 5×5 lace closure is in the middle of the wig; now, you can make it appear on the side. This can make the side part hairstyle better.
The default is the middle position; you can note the off-center position when inquiring.
Clear Knots and Natural Hairline
Natural Hairline: single knot + baby hair, impeccable.
Ultra Clear Knot Bleaching: professional bleaching formula for smaller and more natural knots but strong roots.
Hair Length:
16″-28″ is a regular size, the stock is sufficient, and the delivery is fast.
30″-40″ is an unconventional size and needs to be customized.
About Density:
Although we describe the density in percentage ( general densities are 120%, 150%, 180%, 200%, 220%, and 250%), it is just a reference. We will use the weight to make the final quotation.
Lace wigs consist of lace frontals and bundles. Lace frontals' density and weight are fixed; we can also do it if you need encryption. Generally speaking, the number of bundles determines the density of wigs; the more bundles, the greater the density. In addition, the longer the wig, the greater the density needed to ensure it looks full.
The following table is a reference weight; the actual weight is subject to the quotation.
Hair Type:
We provide three types of hair: Non-Remy, Remy, and Virgin. We don't define hair according to the country of hair, but we can also provide hair from a specific country if you need it, major countries: China, India, Myanmar, Cambodia, Vietnam, Brazil, Peru, etc.
It is difficult for ordinary consumers to distinguish them by their appearance, but they can be easily determined after a period of use.
| Name | Describe | Remark |
| --- | --- | --- |
| Non-Remy hair | No cuticle aligned, smooth, no tangle and shedding. | Poor dyeing and bleaching performance, easy to break, short service life |
| Remy hair | Full cuticle aligned, smooth, no tangle and shedding. | Average dyeing and bleaching performance, average service life |
| Virgin hair | Not been chemically treated and has retained its natural texture and intact cuticle. | Excellent dyeing and bleaching performance, strong toughness, long service life |
Hair Texture:
There are many subdivisions of hair texture, mainly six textures: Straight, Wave, Curly, Coily, Kinky Straight, and Yaki.
Different manufacturers may have different interpretations of the subdivided hair type, and the same hair can be composed of different hair textures, such as straight at the beginning and curly at the end. So it is best to provide us with photos.
| Hair Textures | Andre Walker Hair Typing System | Some Common Names |
| --- | --- | --- |
| Straight | 1a-1c | natural straight, bone straight |
| Wavy | 2a-2c | natural wave, body wave, loose wavy, deep wave, water wave |
| Curly | 3a-3c | natural curly, jerry curl, deep curly, big curly, loose curl |
| Coily | 4a-4c | kinky curly, kinky afro, kinky coily, coily curly |
| Kinky Straight | ... | kinky curly straight |
| Yaki | ... | Italian yaki, light yaki, yaki kinky straight |
Lace Type:
There are currently three common types of Lace: Light Brown, Transparent, and HD Swiss.
If you have special requirements for Lace, please provide us with samples.
| Light Brown | Transparent | HD Swiss Lace |
| --- | --- | --- |
| | | |
| It has been improved and is thinner and more transparent than the old version. | It has been improved and is thinner and more transparent than the old version. Can be called Transparent HD. | The most popular in recent years. Apart from the high price, there are no major disadvantages. |
For dark and light skin color, we suggest light brown lace.
Transparent lace has a slightly lower light transmittance than HD lace and will appear a little white in a well-lit environment. But it has its own advantages, lace is not easy to be stained when it is dyed.
HD Swiss lace is suitable for all people, is thinner and more transparent, and hides perfectly in the skin's texture. The only downside is that the lace gets dyed easily if you dye your hair darker.
Hair Color:
Undyed hair color is called natural color, usually black with a bit of brown, sometimes with a few strands of blonde.
Colored hair is divided into ordinary and bleaching dyeing according to different processing techniques. For mixed colors, it is better to provide photos or samples.
You can provide us with the color sample, and we will process it according to the sample; you can also ask us to provide the hair color palette for you to choose from.
Logo and Packaging:
Packaging and logos are key elements in product marketing, and together they form a product's brand image.
You can provide us with your packaging and logo label, or give us your requirements, and let us make it for you.
Wholesale 5×5 Lace Closure Wigs Customized service:
Customization is possible significantly; please discuss the details with us.
View more of our wholesale wigs.
As a professional wig wholesaler, we have our own factory and continue to invest in technology research and development.